Walking in Glenmoriston
Moriston River & Waterfalls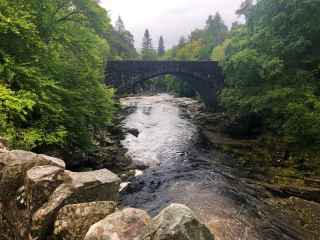 Everybody knows that we lie just a few minutes stroll away from the most famous stretch of water in the world. To reach it we would recommend that you take a walk down by the Moriston River, this takes just a few minutes and on the way you can take in Thomas Telford's (the architect of the Caledonian Canal) bridge built in 1813 and formerly used as the old road. This bridge spans our famous waterfalls which in any season are spectacular.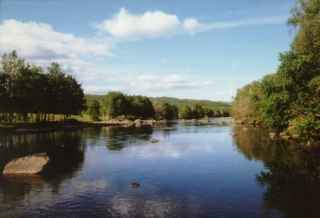 This walk taking you down alongside the Moriston river which in Gaelic means "River of the Waterfalls" tumbles its way to Loch Ness whilst you return on the walk through woodland to complete the circuit. Mature Scots's pines and a rich carpet of mosses and ferns make this a delightful and tranquil woodland walk.The old summerhouse gives a birdseye view of the river and the Telford bridge.

Allow: 30 minutes Easy Walking
Alltsigh and the Stone Seat (Following the Great Glen Way)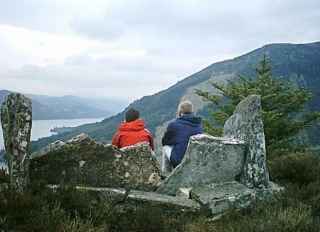 This walk starts by climbing the steep minor road at the rear of the hotel and following the signs for the Great Glen Way which carries on to Alltsigh and eventually to Drumnadrochit.

The initial steep climb is rewarded with excellent views over Loch Ness and on a clear day through to the Cairngorms and Nevis ranges. Before the path narrows to take you onto a lowertrack, take a short detour to the Stone Seat viewpoint for extra special views over the Loch.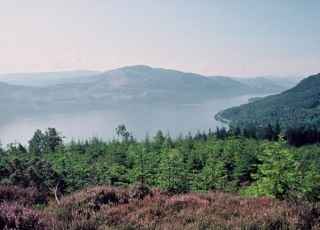 The stone seat was built in Victorian times for the 'ladies of the day' to partake in afternoon tea and scones. It is often similarly used now by our guests in the hotel wanting a quiet spot for a while although the 'ladies of today' tend to prefer a bottle of wine and a picnic! People walking the Great Glen Way often side step to take a rest after the steep climb from the village. Try to spot the Rock Cave shelter before reaching Alltsigh.

Allow: 2hrs (one way) Moderate Walking
Sron na Muic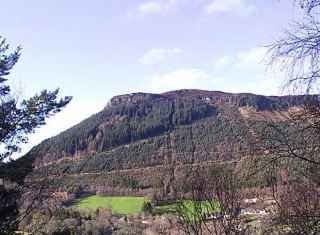 This route also follows the Great Glen Way however this time in the opposite direction of Fort Augustus. The walk takes you on the high ground of Sron na Muic (snout of the pig).

It is a very strenuous walk however the views are spectacular once upon the summit. This route can also be cycled.

Allow: 5hrs return Strenuous